Back to all posts
Posted on
The Rootinest, Tootinest Teacher!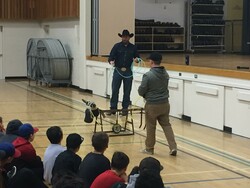 In addition to being a terrific teacher, our very own Mr. McCarroll is also one of the top team-ropers in the country!
Mr. McCarroll and his brother are perennial contenders at the Canadian Finals Rodeo! Mr. McCarroll has won the award as Top Team Roping Header twice and as the Top Team Roping Heeler once.  This year, Mr. McCarroll and his brother are off to another terrific start, sitting in 5th place overall after 2 of 6 rounds!
You can follow Mr. McCarroll at the CFR every evening at 7pm, when the events are live-streamed on florodeo.com and brodcast on CFCW radio.
Good luck, Mr. McCarroll! Everyone at ÉCKS is cheering you on!