Back to all posts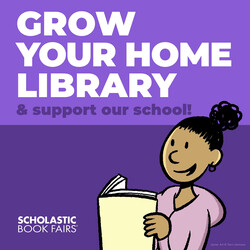 Dear families,
Our Scholastic Book Fair is here! Students are welcome to join us during their scheduled library time, starting November 1, until November 8. We have all the Scholastic favourite books, such as Dog Man, Bad Guys, Gordon Korman, and more. All purchases help our school earn Rewards for new resources. 
Parents and siblings are also welcome to our Book Fair in the evening of November 8, between 4 PM - 8 PM. This is the same date as the Parent-Teacher interviews. 
There will be many raffles for both students and their families.
Can't join in person? Shop online through our Virtual Fair extension! https://virtualbookfairs.scholastic.ca/pages/5179492
The Scholastic Book fair accepts cash, debit or credit cards.
Please see the homeroom schedule below to know when your child will be visiting the Book Fair during school time. 
Tuesday, November 1

7B

6B

RISE

6F

Wednesday, November 2

8D

8F, 8G

8E

6D

Thursday, November 3

7D

6A

7E

8H

7F, 7G

Friday, November 4

8C

8A

8B

6G, 7G

7C

Monday, November 7

7A

6E

6C

Tuesday, November 8

Open for students who missed their dates or who want to come back again.




Open for families during Parent-Teacher night, 4 PM - 8PM.
We hope to see you at the Book Fair!
Regards,
Åsa Bouck, Learning Commons Facilitator
Chad Ramsay, Principal